Have I shared how much I love TV? I used to try to hide this fact, limiting myself to 30 minutes a day and some such nonsense. I'd make comments like, "such trash these days" and "who has the time?". Well… I DO. Now, I own it. I heart TV. I have recently discovered a show called The Rachel Zoe Project. I've only seen two episodes and there's a lot I don't understand. i.e.:What is her project exactly? And what is she dying from? Regardless, I can't get enough and feel that I'm really learning a lot. After watching the last episode, I began contemplating the season change and what this would mean for my fashion and the oh so many statements it makes. Taking my new found knowledge and my InStlye (it's like 800 pages this month!), I headed straight to my closet and started taking inventory for the Fall. I. also. started. talking. like. this.
Basically, unless shabby workout clothes, leggings and jeans, jeans and holy, holy more jeans are "in" this Fall, I'm screwed. I may have something with the leggings, but other than that things aren't looking good. This is BUH-NANAS, as Rach would say. I need to go shopping. Problem is, I've spent my Fall Fashion Funds on a one and a half year old who's arms and legs seem to shoot out from his torso at the rate of half an inch per day. Shame he doesn't appreciate this sacrifice, screaming and melting into the floor when I try to pry his pajamas off of him.
ANYWAY….all that to say, if I had the bacon to buy anything for the Fall, it's already been spent on clothes for him.                     But! Here is what I'll be selling plasma for:
Silence and Noise open front blazer.
J. Crew Matchstick cords. Cute, right?
ANNNNND….end scene! Okay, ladies and gentleman. Thank you for joining us for the semi-realistic portion of Hillary's Fall Fashion shopping list. Now we will embark on a little tour of what will never be seen in my closet, but honey, I can dream.
This here? This makes me understand why Rachel Zoe is always saying, "I-uh DIE-uh". Yes, fashion can kill because I nearly died when I saw found this treasure. Tory Burch.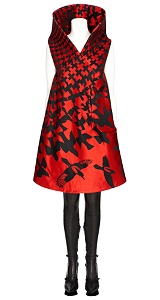 Not entirely sure I couldn't wear this to the grocery store. Alexander McQueen, fools!
Ooo, two lovely Marc Jacobs dresses!
Let's round out our delusional tour with a precious Rock and Republic leather jacket. HOTT.
Thanks for allowing me that little bit of fun. Back in reality now, I can tell you I'll be wearing my extensive denim collection paired with a baggy sweater or two. At least I'm not rockin' the Mom jeans. Yet.
* In other news, James is generously finishing off a section of our microscopic garage to make me a laundry room. He, apparently, is under the impression that if given a special room to complete the task I'll be more likely to, well, complete the task. What he is blissfully unaware of as he hammers away is that I plan to promptly remove the washer and dryer from the equation and create a poshy "office" for myself. You see, while I have managed to obtain two for-profit small jobs, one non-paying massive "job" (motherhood) and one "job" that has us hemorrhaging money right and left (being a student counts as a job!), none of them have given me the office space that I crave. I so miss having an office, a space that's really, truly ALL MINE. Can't wait!